Regular price
R 409.64 ZAR
Regular price
Sale price
R 409.64 ZAR
Unit price
per
Sale
Sold out
Get glowing, clearer looking skin with Nutricentials Here You Glow – a facial toner that does more than just tone.
This thoughtfully balanced formula features a unique mix of hydroxy acids to leave your skin feeling soft, smooth, healthy, and visibly glowing, plus salicylic acid to help cure the appearance of existing spots. At the same time, its cleansing action lessens the chance of new spots forming. Your skin is left looking clean, clear, and radiant – ready for whatever comes next!
Suitable for all skin types

Sustainable packaging

Non-comedogenic
Clinical Results after 2 weeks

100% of participants said their skin looked more radiant*.
How to Use
1. After cleansing, apply Here You Glow to a cotton pad.
2. Sweep the saturated cotton pad over face and neck in an upward, outward motion, avoiding the eye area.
3. Allow to dry before following with serum and moisturiser.
Use daily, morning and night.
Before using products, please perform a patch test on a small area of skin. If redness or irritation occurs, discontinue use immediately.
Did you know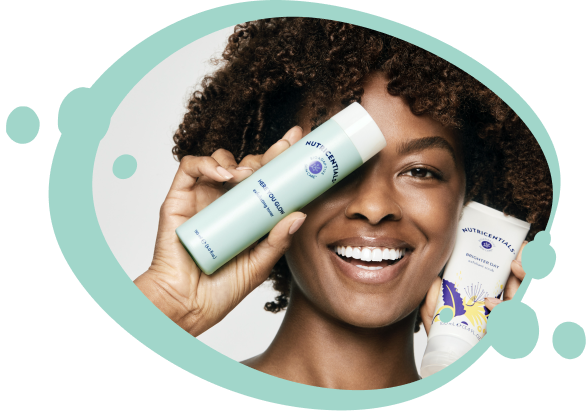 Made with bioadaptive botanicals.
Features a formula with an effective 10% blend of AHAs, BHA, and PHA to leave skin visibly soft, smooth, and glowing.
Helps increase the cell turnover rate by exfoliating and "ungluing" dead skin cells from the skin surface.
Unclogs pore-blocking dirt and oil and visibly reduces the appearance of pores.
Helps improve the appearance of spots for clearer, cleaner skin.
Hydrates skin by attracting and binding moisture to leave it looking healthier and more supple.
Prepares skin for additional products like serums and moisturisers.
Features a bottle that is proudly made from 100% post-consumer recycled plastic.
Behind the science
Bioadaptive Botanical Complex
a blend of botanical extracts from plants that thrive in extreme climates and can help your skin bounce back from life's daily stressors such as stress, pollution, and oxidative stress.
Ingredients
• AHAs (lactic acid, glycolic acid, and malic acid) – helps increase skin cell turnover rate by "ungluing" dead skin cells from the skin surface, leaving it looking fresh, smooth, and even, while visibly reducing the appearance of pores and creating a healthy glow.
• BHA (salicylic acid) – penetrates into pores to target spots by dissolving pore-blocking dirt, oil, and debris.
• PHA (gluconolactone) – a gentle acid exfoliator that helps hydrate and condition skin. It promotes skin cell turnover when associated with other acids (AHAs & BHA).
• Hydrating and soothing blend and butylene glycol – attracts and binds moisture to the skin for a more supple, hydrated, soothing after-feel.
List of ingredients:
Aqua, Aloe Barbadensis Leaf Juice, Butylene Glycol, Lactic Acid, Glycolic Acid, Sodium Hydroxide, Glycerin, Gluconolactone, Malic Acid, Selaginella Lepidophylla Extract, Rhodiola Rosea Extract, Salicylic Acid, Ethylhexylglycerin, Inonotus Obliquus Extract, Rhaponticum Carthamoides Root Extract, Niacinamide, Eleutherococcus Senticosus Root Extract, Xanthan Gum, Sodium Ferrocyanide, Sodium Chloride, Phenoxyethanol, Sodium Benzoate.
Share
View full details